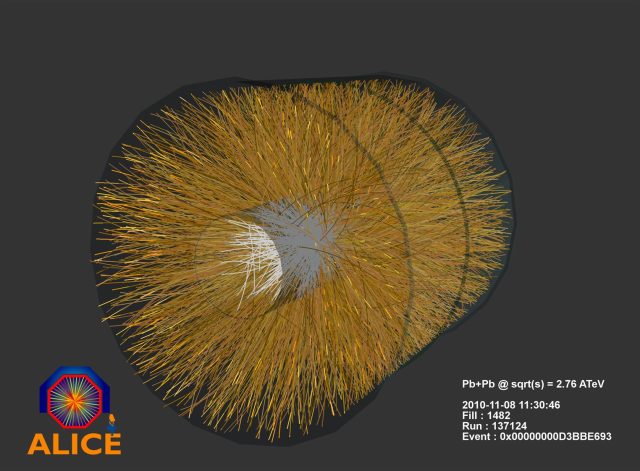 The LHC's proton collisions, which have now successfully nailed down the existence of the Higgs boson, get most of the attention, both in the media and at CERN itself. But, for a few weeks each year, the collider is switched over to smashing lead ions. Heavy ion collisions, in fact, are considered to provide such distinct information that the US has kept open the Relativistic Heavy Ion Collider, which is dedicated to smashing heavy ions, even as it shut down the Tevatron, its dedicated proton/antiproton collider.
Right on the heels of the Higgs announcement, Science is running a review of heavy ion collisions, which nicely explains why they tell us something completely different from what's revealed by proton colliders. Plus it provides a nice picture of how the LHC will provide new data, and the upgrades that have taken place at the RHIC to help keep it relevant.
The matter we see around us is comprised mainly of protons and neutrons. These, in turn, are composed of quarks and gluons, which mediate the strong force that binds them together. Because the potency of the strong force increases with distance, breaking up a nucleon (proton or neutron) typically requires high levels of energy that basically blast the nucleon in part. That's precisely the sort of thing that happens during the proton collisions that take place at the LHC.
Read 10 remaining paragraphs | Comments
Article by John Timmer (c) Ars Technica - Read full story here.