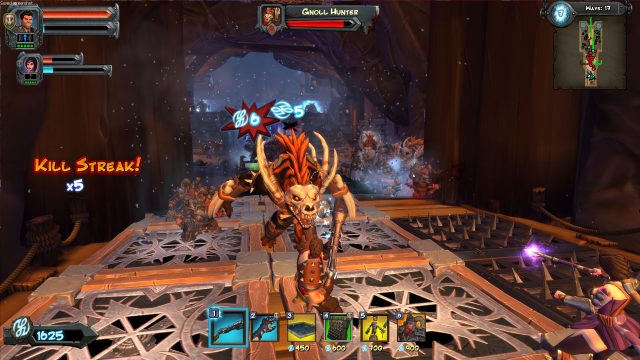 Wait, don't kill him yet... I want him on our side! Robot Entertainment
The worst thing about the tower defense genre just might be the waiting. You spend all that time between waves of bad guys carefully setting up a truly diabolical, maze-like series of threats and traps for them to march through, then you're stuck simply watching that death march play out. Sure, seeing the carnage unfold can be cathartic, and you can usually fill in some holes with a few last-minute defenses. But for the most part, you're just sitting and waiting for your resources to replenish so you can actually play the game again.
The original Orcs Must Die went a long way toward fixing this problem by adding a bit of direct, third-person combat to the traditional tower defense mix. Now, instead of just waiting for your resources to replenish so you can put up more defenses, you could take a more active role in beating down the encroaching hordes. It was an ingenious combination that beautifully merged the best of twitch gaming and strategy gaming without letting either side feel either tacked on or overbearing.
Now, less than nine months after Orcs Must Die's initial release, Orcs Must Die 2 does its best to extend this original concept without really altering it. The most crucial addition by far is a new co-operative multiplayer mode, which quickly comes to feel like the preferred way to play the game. The levels largely feel designed to be handled by two players, who can more easily split their attentions between defending far-flung monster entry points and supporting each others' weak points as they pop up. These levels aren't impossible for single players by a long shot, but rushing to cover attacks from multiple angles feels a little less manageable and more harried when alone.
Read 5 remaining paragraphs | Comments
Article by Kyle Orland (c) Ars Technica - Read full story here.