Hewlett-Packard has scored a victory in court that could give its Itanium-based servers an extended lease on life. A California judge has ruled that Oracle's decision to drop support for the Itanium processor in future versions of its database products was a breach of contract, that Oracle is required by its agreement to continue to develop products for Itanium "until such time as HP discontinues the sales of its Itanium-based servers," and that  "Oracle is required to port its products to HP's Itanium-based servers without charge to HP."
The case, brought by HP in the wake of Oracle's decision in March of 2011 to drop Itanium support in all future product development, hinged on the interpretation of a phrase in an agreement signed by the two companies in the wake of Oracle's hiring of former HP CEO Mark Hurd as Co-President.  The agreement, which settled a lawsuit filed by HP to block Hurd from taking the position on the grounds of his knowledge of HP's trade secrets—and the unfair advantage he could provide to Oracle and its Sun hardware unit—stated that "Oracle will continue to offer its product suites on HP platforms, and HP will continue to support Oracle products...on its hardware in a manner consistent with (the) partnership as it existed prior to Oracle's hiring of Hurd."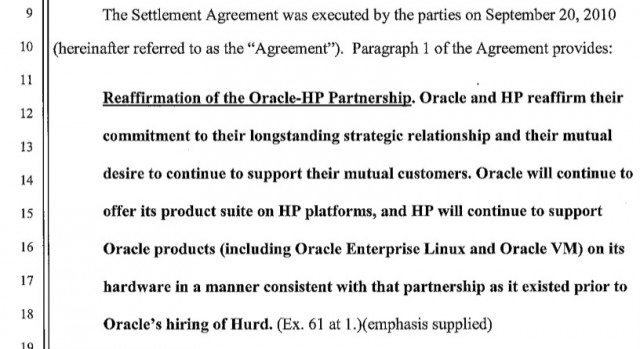 Enlarge / The text of the agreement between Oracle and HP, as reproduced in Judge James Kleinberg's ruling issued today.
In his ruling, Santa Clara County Judge James Kleinberg wrote, "Oracle claims that the phrase 'in a manner consistent with the HP Oracle partnership' leaves it with absolute disgretion and shows only that it agreed to an 'approach.' But the words of the contract say that Oracle 'will continue to offer its product suite on HP platforms.' Such an interpretation flatly contradicts the plain language and fails as a matter of law." Klienberg also found that HP's "estoppel claim"—that Oracle had made frequent clear and unambiguous promises that HP relied upon as part of its business—was upheld by the evidence, including letters provided by Oracle to be given to HP customers that assured Oracle would continue to support HP Unix platforms.
Read 2 remaining paragraphs | Comments
Article by Sean Gallagher (c) Ars Technica - Read full story here.