Image courtesy of Expect Labs
Tim Tuttle intends to give Siri and Google Now a run for their money with MindMeld, an iPad app slated to launch in the App Store this fall, with an iPhone app soon to follow. While both existing services have quickly become essential features on new smartphones, MindMeld will take the idea of a digital personal assistant a step further by making it almost prescient.
Though it will launch in the App Store under the guise of a video conferencing tool, a capability which it provides natively, MindMeld is actually an information-driven application which listens in to your conversation and attempts to understand what's being said. Once it figures out what you're talking about, MindMeld will try to create a model of the conversation's context, and from that it will attempt to locate and display relevant information from many different sources. "We're listening to the last ten minutes to predict what you need in the next ten seconds," Tuttle told Ars. "We're trying to make it so you never have to explicitly search for something you've already talked about."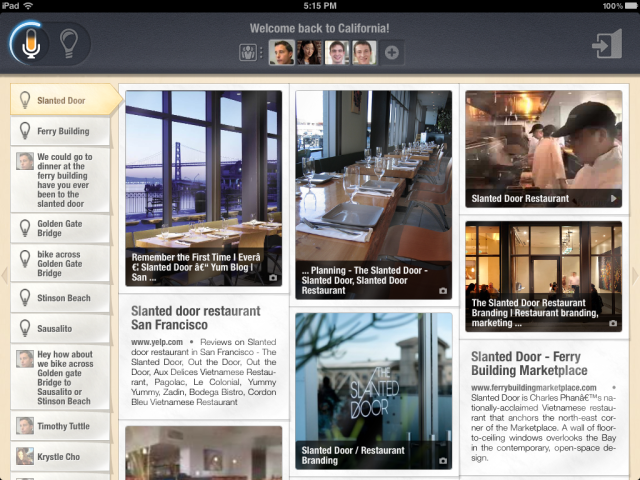 Enlarge / MindMeld's iPad app will be able to simultaneously video conference and deliver real-time search results. Image courtesy of Expect Labs
Tuttle and his team began working on MindMeld with the intention of creating technology which would be considered essential for meetings, phone calls, and any other type of collaborative spoken working environment. Unlike Apple's Siri and Android's Google Now, you don't actually have to address the MindMeld agent to get any results. Instead, it is constantly listening during a call so that it can hear everything and make sure it delivers the right information based on what you're talking about. It's like having a friendly robot eavesdropping on your conversation and looking things up for you.
Read 5 remaining paragraphs | Comments
Article by Florence Ion (c) Ars Technica - Read full story here.