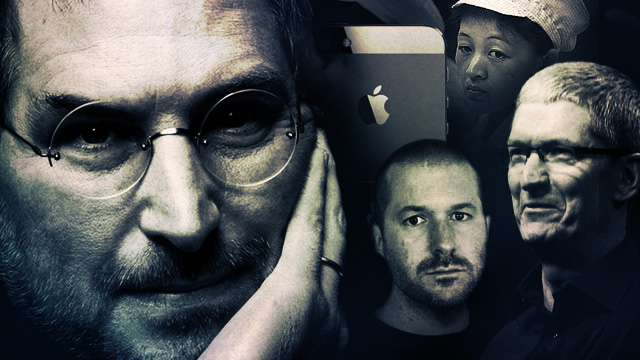 Counter-clockwise from the left, Steve Jobs, Jonathan Ive, Tim Cook, a Foxconn worker, the iPhone 5. Aurich Lawson
In August 2011, Apple underwent a major corporate change as CEO Steve Jobs stepped down from his post and handed control to COO Tim Cook—not as a temporary measure this time, but for good. Jobs adopted a new position as Chairman of the Board; less than two months later, he died.
Jobs' passing, one year ago today, wasn't a shock—he had battled cancer and cancer-related ailments for nearly a decade at that point—but it still sent ripples through the tech world. For Apple's own employees, it was a strange shift. A post-Steve Apple had been born whether anyone liked it or not, and it was up to everyone in the company to soldier on. But in which direction?
Cook faced unique challenges in his new position—he wasn't just a new CEO, he was under an extremely critical microscope to see whether he could measure up as Replacement Steve™. Jobs had instructed Cook to avoid asking himself what Jobs would do—instead, Cook was told to "just do what's right"—but Jobs' legacy at Apple was a powerful force, and it exerted a pull on Apple-watchers everywhere. "Would Steve have done this?" became one of the most common—and annoying—questions that cropped up in the press every time Apple did something of interest, such as when the company apologized for releasing an incomplete product or admitted to a mistake in leaving an environmental product registry.
Read 24 remaining paragraphs | Comments
Article by Jacqui Cheng (c) Ars Technica - Read full story here.